School Site Council
School Site Council (SSC)
The School Site Council (SSC) is a governing body composed of an equal number of staff and parent representatives that helps develop a school plan and sets the school's budget to meet the needs of our students. The group meets five times a year to:
review annual school progress against prior academic year's school improvement plan
collect parent feedback on school performance through the school year by creating, posting and collating appropriate school survey
approve and monitor the school budget
create and approve the school improvement plan for the next academic year based on all of the above
The School Site Council is the parent/staff organization that monitors categorical funding and its relation to students' achievement of standards. The SSC will continue to monitor and revise efforts toward school improvement and achievement. Parents interested in serving on the SSC meeting contact the principal.
School Site Council Membership
| | |
| --- | --- |
| Chairperson | |
| Vice-Chair | Teachers |
| Mrs. Mia Pharris (Secretary)- Secretary | Teachers |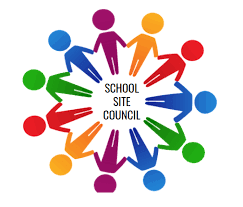 School Site Council Meetings 23-24 at 2:45pm-3:45pm
Monday September 18th, 2023
Monday October 23rd, 2023
Monday December 4, 2023
Monday January 29th 2024
Monday March 25th, 2024
Monday April 22, 2024
Monday May 20, 2024